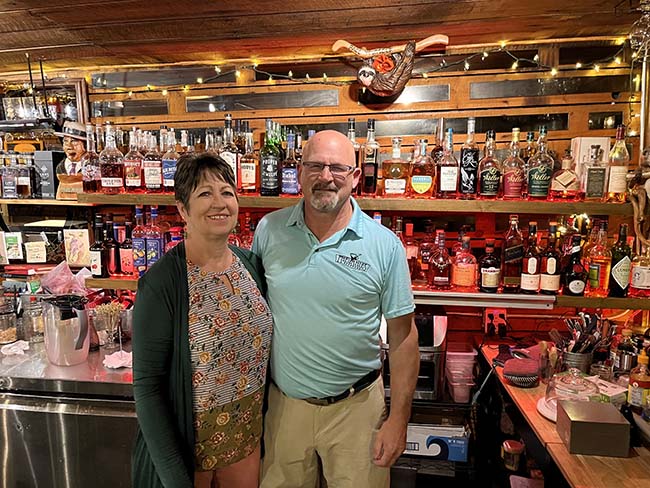 Business, News
May 31, 2023
Phil and Melanie Freismuth, Phelanies Speakeasy
Phil and Melanie Freismuth, after years of owning Horsefly Brewing Company (it opened in 2009), started a new business in Phelanies Speakeasy, right across the street, in 2018. They have crafted an experience for their patrons unlike anything else in Montrose.
A prohibition-era-style bar, everything from the drinks to the decor is made to make you feel like you're in 1920s America. When you visit Phelanies at 900 E. Main St., be sure to show up with the password (you can find it on their social media or across the street at the Horsefly.
Married for 35 years, Phil and Melanie have four children, Ashley (34), Allie (31), Mitchell (25) and Karlee (23). If you're wondering about the name: it has the feel of illegality, much like the speakeasies of the '20s, but it's also an amalgamation of Phil and Melanie's names.
Montrose Busienss Times: Since you opened Phelanies, how has the business matched your original vision?
Freismuths: Originally we started with a dress code. We soon realized that it didn't fit Western Colorado on an everyday basis. However, some patrons still get dressed up. We wanted to create curiosity when entering. In old speakeasy fashion, the entrance is in the alley behind the pawnshop. The back door is locked and has a small hatch in the door. Once you ring the bell, we will come to the hatch door and ask for the password.  Once you give the password, they unlock the door and let you in. We hope to always make that part of the experience.
MBT: What inspired you to open a speakeasy in Montrose, and why were you convinced that business model would work in a town this size?
Freismuths: I knew that Zac and Jen Prock had space behind their pawn shop across from Horsefly that had space in the back they weren't using, so I approached them about leasing it.  They thought the idea was a good fit for that space, so we leased the space that we're in today.  We thought the idea would work because at the time there was only one speakeasy on the Western Slope, and it's in Durango and has been successful for years.
MBT: Speakeasies can sometimes be a bit of a novelty, especially in bigger towns. What do you think keeps people coming back after they've already experienced it once or twice?
Freismuths: We feel a lot of our patrons come back because it's an experience you can't find anywhere else in the area. The decor is prohibition style with comfy couches, no windows and dimly lit. There are old bottles on a shelf and old time photos all over the place. We also have two black and white Charlie Chaplin-era movies playing all the time. Our cocktails are made fresh. Juices are squeezed fresh daily, we make our own simple syrups and muddle fresh fruit. We have taken our staff to Denver twice where they got trained by a professional mixologist on how to create fresh and unique handcrafted cocktails. One in particular is our flagship drink, The Old Smokey.
Freismuths: This is a cocktail where one of our mixologists mixes it at your table. We smoke a piece of the whiskey barrel stave that the whiskey was aged in. They also brulee a sugar coated orange peel. We then place the glass over the smoke to capture it. After the mixologist is done mixing the drink, he turns over the glass, adds a two-inch-by-two-inch ice cube, then adds the mixture and tops it off with the orange peel.  This smokey old fashioned is outstanding.
MBT: Are you looking to grow Phelanies anymore? Or are you content with the way things are now? If you do want growth (sales, capacity, number of customers etc.), what does that look like moving forward?
Freismuths: We are happy with the size of our current location. If we were to expand, it would only be within the building we are currently in. We love the location, and it makes things easier with Horsefly just across the street. One thought is to possibly add a private party room where someone can have their own party away from the rest of the crowd.
MBT: You guys are restaurateurs and entrepreneurs… any other businesses in your future?
Freismuth's: We might have something in the works… stay tuned!