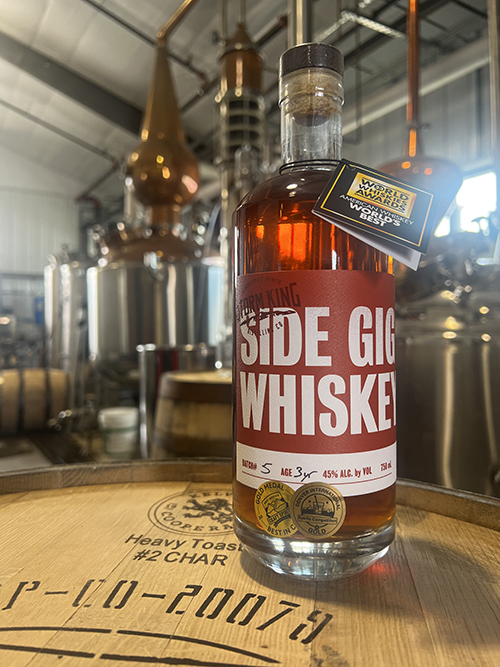 Storm King Distillery is building on its World Whiskies Award and looking to the future
David Fishering wants his whiskey to be synonymous with Colorado.
At least, he wants to be in the top five in the state.
That's where he sees his Storm King Distilling Co. 10 years from now, and it's not hard to imagine the Montrose-based business can get there.
That's because the distillery's whiskey in February was awarded the "Best American Whiskey" at the 2023 World Whiskies Awards.
That's old news by now. If you haven't tried the whiskey, you've heard about it. It's called Side Gig, and though Fishering entered the whiskey into the competition, he never expected it would earn the top prize. He laughed at the thought.
It's understandable. He was going against some of the best distillers in the world. Other winners — in different categories — included Jack Daniel's (World's Best Tennessee Whiskey), Elijah Craig (World's Best Small Batch Bourbon), Tullamore Dew Honey (World's Best Flavoured Whiskey) and more you've likely heard of.
The World Whiskies awards held its big ceremony in London. But David and his dad, Greg, made the trip to Louisville, Kentucky, for the regional awards.
They didn't know whether they should go, but they received a formal invite.
He said he didn't know whether it was worth the trip.
"Were they just trying to get the $500 out of us?" he recalled. "But they said they really thought we should come."
They went, and were shocked when their name was called for "Best American Whiskey" in America. By default, they realized they would win "Best American Whiskey" in the world.
It was a cool experience, Fishering said, and he believes it helps put Montrose on the map.
"It was interesting to be in the room with all those guys," he said. "But before that, nobody there knew where Montrose was. Now you've got people in Kentucky who know where Montrose is."
Why Side Gig?
Side Gig Whiskey stands out from other Storm King products because of its labeling. It's large "Storm King" logo is featured on most of its spirits, which, besides whiskeys, include rum, vodka and agave. The Side Gig labeling, however, has a small Storm King brand with big, bold lettering reading "Side Gig Whiskey."
It's described as "a well-balanced whiskey with a nose of corn, freshly cut grass and nuts. The palate is clean, with notes of oak, honey, chocolate, and an earthiness with a touch of spice. The finish is long, but mellow, with a lovely hint of mint."
If you're less versed in whiskey-tasting, all you have to know is it tastes good, and it goes down smooth.
The name "Side Gig" has an interesting origin, too. It has nothing to do with the flavors.
When they first opened the distillery, their grain supplier, the Whiskey Sisters Supply, came to town to visit. In conversation, they discussed their various involvements in town.
Greg runs the AT&T store. The family also owns and is rehabilitating the old Potato Growers building. David's wife, Sarah, is on the school board. And David, himself, is on the Montrose Planning Commission. Etc., etc., etc.
One of the suppliers turned to them and said, "you guys have a lot of side gigs."
David trademarked the name the next day.
"It fit the whiskey really well when the whiskey was young and very experimental," he said. "In reality, the things that are side gigs here are vodka and agave, and our gin and our rum. All the products that pay for me to be able to make whiskey and focus on the whiskey."
He loves his whiskey so much he was in the middle of rebranding the Side Gig.
"Then we found out that we won the award, so I can't," he said.
Whiskey is what they love to do, and it's what they do best. Side Gig is a testament to that.
"We pride ourselves the most on our whiskeys," Fishering told the Montrose Business Times last week as he was working on a single malt whiskey, a collaboration with Montrose's newest brewery, Pomona Brewing Company.
Side Gig isn't even Fishering's favorite. He prefers their bourbon. A couple sips, and you can see what he means.
Coming up short
With the Side Gig victory, there was obviously an increase in demand. One problem. They didn't have enough.
He sold out of his bottles of Side Gig pretty much right away. No surprise there.
He busted open some other barrels and bottled those. Those sold out. He did it again. Those are almost gone, too.
To try to slow the sale of his Side Gig, he even raised the price point from $65 a bottle to $85 a bottle (a reasonable price for the best in the world).
Drinking, for some, is a hobby. For others, it's a passion. There has been plenty of drinking tourism to Montrose since the win.
"Some people had already planned to possibly come out here, and then this cemented it for them," Fishering said.
Others have called to reserve bottles, and others still have made the trek to Montrose just to buy the whiskey.
Demand, as one can imagine, will remain high, as the product keeps selling.
"There's going to be a point in the next couple months, though, where we don't have any Side Gig," Fishering said. "Because three years ago, I just didn't make that much to meet today's demand."
It's a good problem, he says. "But it's still a massive problem."
"Our big thing now is figuring out how we can scale up our production without a bunch of surplus," he said. "Any scale in production has to come with the attached sales effort. Either way you look at it, we will need to hire people."
Fishering doesn't have any employees in the manufacturing portion of the distillery. The spirits you taste at Storm King: he made those all himself.
The only employees he has work behind the bar in his tasting room. While he does some wholesale, like the big boys he competed against at the World Whiskies Awards, he doesn't sell nearly as much outside Montrose as he does here.
"Eighty percent of our sales happen right here in the tasting room," Fishering said. "It would be nice to be around the state or around the country, it doesn't really matter which. But if we do the analysis and it makes more sense to take our whiskey to North Dakota than to Denver, then that's what we'd do."
But to get the Storm King products at a bar or liquor store, you can pretty much only find the stuff from Delta to Ridgway.
Into the future
As Storm King looks to expand, the timing couldn't be more perfect.
The family in 2018 originally bought the property at 41 W. Main St. because of the Potato Growers Building. They envisioned their distillery being the anchor for the space and having other businesses on the property around them.
They are currently rehabilitating the building, and Fishering says it's likely six months to a year away from completion.
"We'd like it to be done by winter, but winter is approaching fast," he said.
The century-old building is a downtown landmark that has a rich history with the agriculture community. In 2020, the building earned listings on both the state and national historic registries.
"The Potato Growers Association building was the first privately owned property to be listed on the city's Register of Historic Places and we are thrilled that the building owners pursued listing it on the State and National Registers as well. We are proud that this beautiful building is now officially recognized nationally as an important historic resource," said Deputy City Manager Ann Morgenthaler, in 2020 when the designations were given.
The historic brick structure was built in 1908 after the original wooden structure burned earlier that same year, according to the city. The building was a warehouse for the Montrose Fruit Growers Association, the Montrose Fruit and Produce Association, and later on for the Montrose Potato Growers Association.
The plan for the Fisherings is to move the tasting room to the historic building, when the $500,000 rehab project is complete (half of that money came in the form of a historic preservation grant).
That will allow the distillery to operate solely as a distillery and manufacturing facility. Fishering estimates he could double or even quadruple his distilling capacity with the additional space, depending on demand.
In addition to the tasting room in the Potato Growers Building, there will be room for three to four retail spaces and one cold food vendor (they can't install fryers due to the historic status). Something like a sushi stand or a sandwich shop could help fill the space.
TO SEE MORE PICTURES CLICK HERE.