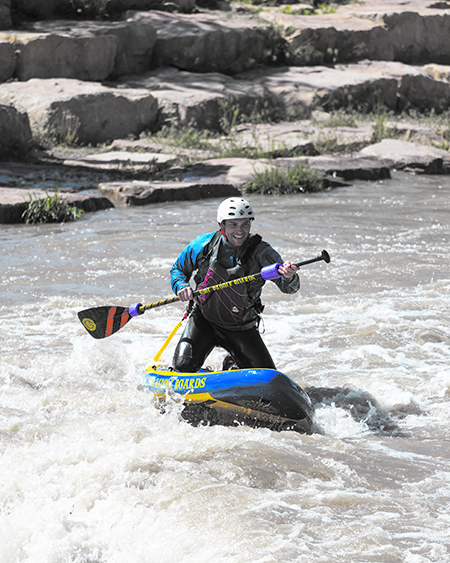 Outdoor recreation business a 'moving target' in the spring
Montrose surf season is officially here, but a number of factors have meant a "moving target" for outdoor recreation business.
According to Hollis Brake, who runs Montrose Surf + Cycle, the weather means different sports are in play earlier and some later. The heavy snowpack this year has especially meant different sorts of business for the shop, which sells surfing, cycling and various other outdoor equipment.
"There's good and bad (with the heavy snowpack). It's mostly good. It extends our season. It typically starts a little earlier for some aspects, like rafting and that kind of stuff," he said. "The surf season gets kind of delayed. It's colder, a little later in the year, and biking is down a little bit early in the spring. But it helps with our nordic ski stuff. It just shifts our business back and forth."
Heavy, cold flows have meant advanced surfers have been able to surf at the Montrose Water Sports Park, but beginners aren't recommended to get into the water yet. That means Brake has sold more kayaking and rafting equipment — and wetsuits for those experienced surfers who can begin surfing the waves as early as February.
"It's not like we had a huge snowpack so our sales are doubled or something," he said. "It makes it harder with surf lessons because you don't wanna push beginner surfers into this big of water. But our avid surfers are definitely out and pumped."
He sold nordic skis all the way into April, which is unusual, Brake said. And while the snow pack delays surfing for many, it does mean the waves are better for longer, until Gunnison Tunnel is closed in late October. Surfing season officially ends then.
Brake said half the mountain bike trails in the area are still closed, so there's a delay in sales for mountain biking equipment. Usually, he said, people can ride year-round. But this year there was about a three-month block where it was tough to ride anywhere because of the amount of precipitation.
Another anomaly is the amount of people interested in rafting the Dolores River this year.
"I probably could've sold 30 maps for that this year, where normally I'd sell 3-5 maps," Brake said. "If I would've known, I would have prepared for that more."
Most years, due to the dam control, the Dolores isn't active with many water sports enthusiasts. This year, it is.
It can be tricky business relying on nature to determine where your sales come from. So, overall, Brake just tries to diversify.
"If the weather isn't good for one thing, it can be better for something else."
Still, he notices, the weather is getting more extreme, in both directions.
"There are bigger storms, then 90 degree days, going back and forth. It's getting harder to predict," he said.
But when it comes to diversifying, Montrose is a good place to be. There's Telluride to the south, which has a true summer and true winter, with skiing, mountain biking and hiking. Then to the north, there's high desert, where people can get into river sports, mountain bike and hike.
"There's just so much accessibility from Montrose, as a hub," he said.
Check river flow
Answering a commonly asked question, the City of Montrose has created a new tool that tells those interested the accurate, up-to-date water flow information at the Montrose Water Sports Park, for residents and visitors alike.
The updated river flow calculator can be found on the Water Sports Park webpage at CityofMontrose.org/WaterPark. The information is published toward the top right part of the page.
Although there are numerous flow measurement stations along the Uncompahgre River, no single station is representative of the flow within the City of Montrose. Many factors play into calculating this measurement including contributions from Ridgway Reservoir, Cow Creek, other natural drainages, and the Gunnison Tunnel/South Canal as well as major irrigation diversions into the West, M&D, and Loutsenhizer Canals. Depending on the time of year, some of these can add or subtract more than half of the river's flow.
This new flow calculator uses real-time flow data from the river's upstream measurement stations and diversions to calculate the estimated flow within the city.
Many of the smaller tributaries through the city, like Cedar Creek, the Montrose Arroyo, and Dry Cedar Creek, are fed by lower-level snowpack and have already experienced their spring runoff peaks. However, the Uncompahgre River and its larger tributaries are fed by higher-elevation snowpack which, as evidenced by the beautiful, snow-covered view of the San Juan Mountains, still has a ways to go.
Information from City of Montrose release.