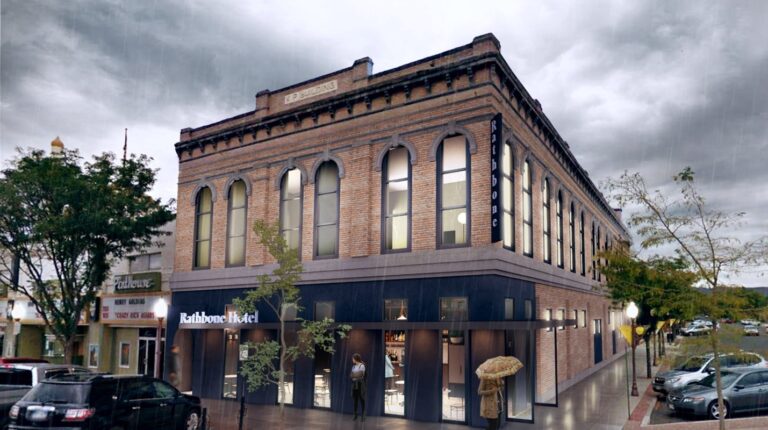 Repurposing History
By now, most Montrosians are aware that there's some renovation work being done to the building often referred to as "the one next to the movie theater" or "across from the new public safety complex."
That would be the former Knights of Pythias building at 33 South Cascade.
It was also a Safeway at one time, the Elk's Club meeting place, a furniture store and an appliance store. And it had apartments upstairs for a while. After a devastating fire in 2012, the grand brick building built in 1909 sat mostly vacant and uninhabitable.
Anyone who has come to town in the past 10 years knows only the empty shell of a formerly vibrant and bustling meeting place and what was a place of commerce.
A decade after that ruinous fire, about a year ago in 2022, the building was sold to recent Montrose resident and developer Clay Bales and partner and Telluride tenant, Jason Raible, who, with help from Region 10 and Citizens State Bank, are reimagining and reconstructing this monument of Montrose history into an upscale, 18-room hotel with a café and bar.
Locals and guests alike will be invited to work remotely in the hotel's welcoming foyer which will serve as a community space, and an outdoor patio is in the master plan. Ten of the rooms will take advantage of 26-foot vaulted ceilings which were formerly part of a large meeting hall upstairs and there will be ADA-compliant rooms at street level.
It's an ambitious project, slated to open in late 2023 or in 2024 — with luck, just in time for the ski season. Construction, which always involves some demolition, started late in 2022 and now, with better weather, is proceeding apace.
Perhaps you've seen workers perched on second-story scaffolding, disassembling the brick that transected the original 8-foot-tall windows. Carefully, they've brought back the unique look and texture that was originally intended by the builders closer to the turn of last century. It is that uniqueness that qualified the building in November of 2022 to be added to the Montrose Register of Historic Places. It is only the 10th such distinction bestowed upon a Montrose building since the registry was created in 2019.
In its newest, upcoming iteration, the former KP building will become The Rathbone Hotel, a world-class, family-friendly spot, named for the founder of the Knights of Pythias, Justus Rathbone. The Knights of Pythias is an international, non-sectarian fraternal order, established in Washington, D.C., on February 19, 1864. It was the first fraternal order to be chartered by an Act of Congress under Abraham Lincoln's administration.
The Montrose chapter's building was initially constructed for under $25,000 (that'd be about $830,000 today, according to officialdata.org.) Back then, as today, the organization promotes, "Friendship, Charity, and Benevolence" and its primary charity is the American Cancer Society.
In the spirit of friendship, Bales, who has spent the majority of his professional career in hospitality has said, "We want to be an integral part of the community," and that he wants visitors "to see that Montrose is a world class destination."
Bringing back the grandeur and purpose of a building like the KP (now Rathbone), is just what Bales and Raible are hoping to do. With a nod to its past and the heritage of this town, the new hotel will once again become a place to meet, share a drink and share community.