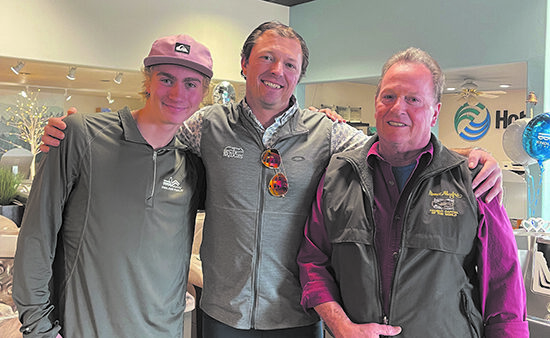 Paul Derence, Hot Water Productions
Paul Derence's father, Joe, started Hot Water Productions company in 1985. He started out with a small hot tub manufacturer in Montrose called Four Seasons Spas before taking a risk on starting his own retail business from the home garage.
Paul grew up in Montrose and spent many years of his youth helping in all the ways he could (and some he didn't want to).
The business sells hot tubs, saunas and swim spas and provides warranties and service on all the products they sell, as well as others that they don't sell. They offer products that, when incorporated into a daily routine, can provide wellness and improve the quality of life for the user.
The best way to get in contact with them is by walking into their showroom at 2511 S. Townsend Ave. If you can't make it in, you can visit them on the web at www.hotwaterproductions.com and fill out one of their contact forms or leave them a chat message. You can call them at 970-249-2566.
Montrose Business Times: What makes this community a good one to deal hot tubs?
Paul Derence: I think Montrose is situated in the perfect location for recreational activities. We have mountains, trails, lakes all within minutes travel, so it lends itself nicely to people who live an active lifestyle and want to relax, recover and unwind after a long day. It's a small community,  which makes building relationships with our customers who now have become second or third  generation families to us.
MBT: What is special about your business that makes customers choose you over competitors?
Derence: It's all about the experience. We pride ourselves on providing an experience that makes it easy for our customers, in addition to providing great service after the sale. There are other great brands of hot tubs and saunas out there, it's the service after the sale that separates one company from another. We like to think that we are here for the long haul, and hopefully that provides some comfort for anyone thinking about doing business with us over one of our competitors.
MBT: You're a family-owned business, so how does it feel having multiple generations working in the business?
Derence: It's amazing to think about when I was a teenager being raised in Montrose, and that working in the family business was something that I had very little interest in at the time.  However, I never really got out of the business while working for a hot tub company in Colorado Springs while going to college. After realizing that this was an industry that I found to be unique given that we provide a product that can change people's lives for the better, what better way to spend each day at work than that?
The fact that my wife and son have been helping with the business now shows that we practice what we preach. We all live healthy lifestyles and want to promote that to others in our community. There is also a great sense of pride knowing that my father worked his tail off to build this business from the ground up and that there is a tremendous level of responsibility but also gratitude in knowing that we can keep that legacy alive.
MBT: What kind of hot tub do you have at home?
Derence: We have a Hot Spring Envoy, which we just installed about four weeks ago. The previous model we had since 2013 so I would laugh knowing that I could replace our tub with the latest and greatest model available at any time, however they are such well made products it was hard to replace something that we loved and worked so well! After 10 years, and now being welcomed to a new home for another 10 years of reliable service, it is quite nice to enjoy the brand-new shiny version.
MBT: Is there anything about your business you're most proud of?
Derence: As I mentioned before, just making an already successful company even better and constantly growing is something that I am proud of… I'm very proud of my father for all his hard work and much deserved retirement, and for trusting me to keep this thing alive and thriving. I'm proud of my wife and my son for their efforts in always finding ways for our business to improve and innovate. It's easy to find success and become stagnant, but it's so much more rewarding to always be thinking about how we can be better and provide better services to our customers.