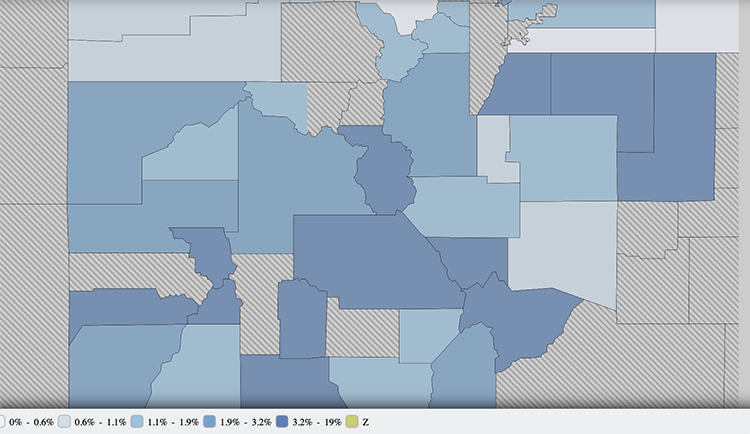 Montrose County population growth linked to pandemic
Montrose County saw some of the biggest population growth between 2020 and 2022, according to data from the U.S. Census Bureau with population estimates for 2022.
The growth, spurred by pandemic migration, ranked 10th in the state, as an estimated 994 people were added to the county's population in 2020 and 2021.
The counties that grew more than Montrose were Weld (18,749), Douglas (15,685), El Paso (8,225), Adams (7,096), Larimer (6,879), Mesa (2,631), Broomfield (1,637), Elbert (1,592) and Pueblo (1,219).
Jackson, Boulder, Jefferson and Summit counties were some of several that saw population decreases in that same time period.
Meanwhile, the state as a whole grew roughly 1% to 5.84 million in 2022.
Montrose County's growth, specifically, during the pandemic can be linked to a number of factors. High-speed (one gigabyte) internet and tourism during the pandemic are just a couple.
Severe forest fires ravaged areas along I-70 during a portion of the pandemic. At that time, traffic was rerouted to US 50, which goes through Montrose.
"That year in particular we saw a big increase in the city's sales tax growth," said William Woody, the city's public information officer. "In correlation to that, we had a lot of people decide to move here."
He said the fast internet and the increase in remote work contributed to people being able to move to Montrose County.
"Montrose is in another growth boom right now," Woody said. "You can see that from the amount of subdivisions going up and the housing market."
He said the pandemic has played a big factor in that growth.
It was not only remote work and people flocking from urban areas, however. Montrose County Manager Jon Waschbush also credits retirees.
"Montrose continues to be a really popular place for retirees," he said. "And that shouldn't be glossed over when looking at the momentum."
From 2010 to 2020, Montrose County grew by 3.4%, or by around 1,400 people. Between 2020 and 2022, the population growth numbered 994, or 2.6% growth.
The county currently sits at an estimated 43,811 residents.
Justin Tubbs is the Montrose Business Times editor. He can be reached by email at justin@montrosebusinesstimes.com or by phone at 970-765-0915 or mobile at 254-246-2260.