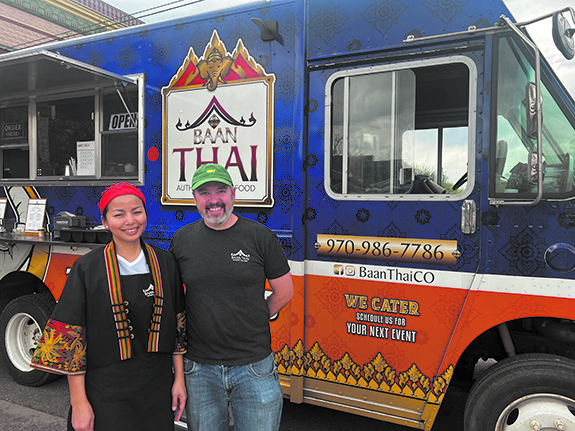 Loren and Tui Stout, Baan Thai food truck
Loren and Tui Stout are the owners of Montrose's newest food truck, Baan Thai, which serves tasty Thai dishes like drunken noodles and cashew chicken.
Tui is from Thailand, and Loren is from Leadville and has been an entrepreneur since 2017, mainly working in the casino industry. The two met in Macau in 2006 while both were working there. They fell in love and moved to Cambodia for work. They moved to Montrose in 2021.
They have three children, the oldest of which is graduating this month, and the youngest of which is in preschool. They have a large rice farm in Thailand, and food is an integral part of their family there.
So they decided to combine Tui's cooking skills and Loren's entrepreneurial skills to start a food truck with authentic Thai food. They bought their truck from Denver and drove it over the mountains (a trip they'll never forget).
They officially opened on Feb. 27.
The best way to try their food is to visit them. They are at Centennial Plaza in downtown Montrose on Monday, Wednesday and Friday. On Tuesdays and Thursdays, they are at Silver Basin Brewing on North 1st and Selig. Customers can also find them at the many events scheduled throughout the summer.
Montrose Business Times: How would you describe the influence for your cuisine? How did you come up with the menu? And do you foresee any changes, specials, etc?
Loren Stout: The influence is authentic, home cooked, Thai food. The word "Baan" means "house" in Thai. We want to provide the type of food you would have if you were sitting at our house in Thailand. It isn't easy bringing that taste, ingredients, and experience all the way from Thailand to Montrose, but we think we've done a good job in doing so, as has been our objective from day one.
A couple factors in creating the menu; ingredients we can get, size of the truck, and cost. We want to provide an authentic experience with our food, with an expansive menu, but sometimes the size of the truck doesn't allow us to keep the ingredients we need to do so. We also cook everything fresh to order, which we won't change, and that takes a lot of space. Many of the ingredients we use come directly from Thailand to give that authentic taste. The cost of doing that is expensive but we think we have found a formula which allows us to provide an authentic dish at a reasonable cost.
I foresee us adding a sweet or dessert in the coming months. Maybe some dried mango or something like that. Specials will include Massaman, Thai Chicken Wings, and maybe some seasonal dishes we can serve at local events. With Tui's imagination and capabilities, anything is possible.
MBT: You've got a very colorful truck that is hard to miss when you drive by. What inspired the design?
Stout: The previous owner had the truck wrapped only a few months before we bought it! They were nice enough to let us keep the wrap as long as we changed the name and contact information. This saved us a lot of startup costs. We think the wrap is fantastic! The elephant catches people's eye and is a classic symbol of Thai culture.
MBT: What has the reception been from the community? Have you found it easy to find patrons and return customers?
Stout: The community has been awesome in receiving our truck and food. We couldn't have asked for a better start to our new small business and want to thank each and every person who has dropped by to try it. The comments and feedback are great. We love to hear it.
The restaurant business is never easy when it comes to finding new customers or repeat patrons. We do our best to provide the best food and experience to earn a repeat visit. We do have a growing list of regulars and things are headed in the right direction in that regard.
Fellow local small business owners have also been very helpful and well received! I have to say, we have a great business community here in Montrose where we help each other out and find mutually beneficial arrangements to get ahead.
MBT: What, in your opinion, makes a food truck successful?
Stout: Great food, good experience, and fast/friendly service. Keeping things simple while providing a great overall product.
MBT: What is your dream for the future of Baan Thai? How would you like to see it grow?
Stout: Well, I think the natural progression would be to move into a restaurant, but I don't think we'd ever get out of the food truck business altogether. There are a lot of great events in the area that provide opportunities for food trucks. The restaurant would provide the opportunity for us to expand the menu extensively and also give us the ability to hit different price points on our offerings. The restaurant, coupled with the visibility and outreach of the food truck, would offer us the ability to make more of an impact locally and regionally.
Delivery or delivery apps may help as well, although the costs for those are quite high.
We also sell our own noodles which is the base for our Baan Thai Mee Korat dish (attached). We'd like to expand on those packaged sales here in the USA somehow. We're busy fine-tuning the packaging and product for a domestic release later on this year, most likely.