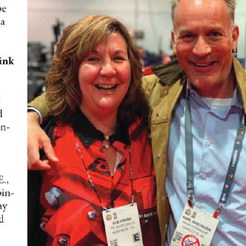 WOMAN AT THE HELM
In a field dominated by men, there is Sue Frank, CEO of TEI Rock Drills
The field of construction is predominately dominated by men. However, as one of the most significant industries in the world, you'd anticipate that women would be equally active in the construction sector.
In reality, women have been working in construction in some capacity for many years.
Since there is a long history of women working in the construction industry, many of them are now attempting to reclaim their legacy and effect change, women like Sue Frank.
Sue is president & CEO of TEI Rock Drills, a family- owned manufacturer founded by her parents, Bill and Judy Patterson in 1980. The U.S. based company manufactures drilling attachments, limited access drill rigs, safety equipment, and associated components that are used around the world.
Although statics show that businesses led by women or having a sizable proportion of women on their boards perform better financially than businesses with less gender diversity at the top, women in construction still encounter a 'broken rung' on the leadership ladder.
Following a five-year study by McKinsey & Company and Sheryl Sandberg through Leanln.Org, the phrase 'broken rung' was developed. Women were less likely to be promoted to the first level of managerial positions when they wTere working in entry-level positions, according to data collected from nearly 600 companies. As a result, the pool of available diverse talent is drastically reduced and the number of women eligible for promotion to higher levels of management is constrained.
The startling data presented in this report revealed that only 72 women are appointed to management positions for every 100 men. As a result, women are typically more prevalent in entry-level positions.
So, we sat down with Sue to speak "frankly" about being a woman in the male dominated fields of construction and manufacturing. There is a warning with this article. Read at your own risk because you may be inspired by a woman at the helm.
Q: Please tell us about your background so we can better understand what motivates you.
Sue: In 1984,1 began my career in the banking and leasing industries. You couldn't be a manager without a degree back then. Raising a young son while attending school and earning a degree was not an option for me as a single mother. I needed to work full-time. Nonetheless, through hard work and perseverance, I was able to advance to the position of manager. The majority of my career has been a learning experience. I've learned to navigate being a woman in a male-dominated world with dignity and respect, and I want to help other women do the same. 1 hope to encourage women to be professional and persistent. When negotiating equal pay for men and women, be firm. Men should also be aware that their contributions to the field will continue to be
valued and acknowledged. rfhey do not compete with women in the industry.
Q: What outcome do you hope to see from this article?
Sue: I hope to inspire. It is also my hope that those who work in the construction industry see their colleagues through the eyes of a child. A few months ago, my 6-year-old granddaughter commented, 'Grandma, there are a lot of humans in this place.' as soon as we entered a crowded event. Wouldn't it be great if all we saw were humans when we entered a room, with no judgement.
Q: What thoughts come to mind when you think of Women in Construction?
Sue: Nothing is off the table. I envision women operating drills and running construction-related businesses. Women are hard workers, and I would like to see them pursue all opportunities in the construction industry.
Q: Who inspires you?
Sue: Within our industry, Mary Ellen Large, P.E., D.GE., Peggy Hagerty, P.E., D.GE., and Helen Robinson, P.E., PMP, D.GE. These women paved the way for so many to come. I'm honored to have worked with them and be a part of growing the industry with them.
Also, local business owners who constantly battle the system and still succeed inspire me. There is a garden center in our community that has been operating for 28 years. The owner was warned that she would go out of business in less than a year when she first opened almost three decades ago. Two big box stores then started to open up about fifteen years ago. Home Depot opened immediately across the street from the garden center after Walmart opened up next door. However, this female business owner continues to run a successful garden cent er that benefits our community. That's just one illustration. Many more examples immediately come to mind.
Q: Tell me about a time when being a woman in a male-dominated industry impacted you.
Sue: As many people are aware, I am the President & CEO of TEI Rock Drills. I was the COO for 7 years before that. However, for the past 16 years, people have assumed that my father runs the company. My father has not run the company for nearly 30 years, so those assumptions make me feel undervalued and underappreciated at times. Specifically, in 2020,1 was named Colorado Manufacturing Woman of the Year, but sadly there wasn't much acknowledgement for the prestigious award.
Q: How do people react when you introduce yourself as President & CEO of TEI Rock Drills?
Sue: Many people's first thought is that I got the job because I'm the daughter of the founders. Despite the fact that I have three older brothers, which would be the more traditional choice, the board of directors chose me. The board thought I was the best candidate for the job. Even after being successful as COO, it took me some time to realize I wras qualified. We women frequently undervalue ourselves. I felt like I had to prove myself worthy of a job that had been handpicked for me.
Q: What are you most proud of? Sue: When I became President and CEO in 2006, our annual sales were only 30% repeat customers and 70% new customers. Within two years, we had shifted lo 70% repeat customers and 30% new customers per year. Within seven years, wre had certified standards to adhere to and standard operating procedures to develop. This enabled our team to improve manufacturing capabilities while also holding our manufacturing and machinery teams to higher standards.
I am also proud of the fact that we have developed more distributors, which allows us to provide better customer service. Our distributor program provides us with a strong network as well as a strong sales team. And I'm proud of myself for being able to mold us into a strong team. Without the "we", TEI is meaningless.
Moreover, I'm proud of the solid relationships we've built over the years, leading other manufacturers within our industry, and with organizations like DFI, ADSC, and ISM, to name a few. Everyone has contributed to who we are as a company and who I am as a person.
Lastly, I'd also be remiss if I didn't mention that, under my direction, we were the first US manufacturer to receive the updated IS09001:2015 certification.
Q: What advice would you give to other females in the construction industry?
Sue: If asked, my advice to other women in the construction industry would be speak up and be heard if you have something to contribute. We must also encourage one another to participate. To take a seat at the table.
Q: What do you hope to leave as your legacy? Sue: I believe I am ultimately responsible for two legacies. With that said, I hope that the TEI legacy will include being remembered as a company that cares about its employees and the community. Aside from that, I'd be content with personally being remembered as the woman at the helm of a leading manufacturing company. (With a chuckle) That legacy marker may come with a warning sign, but it's okay because I'm determined to make herstory.
Tins story was originally written by Tonya Maddox for the ADSC trade publication. It is republished here.
Tonya Maddox is publisher of the Montrose Business Times.