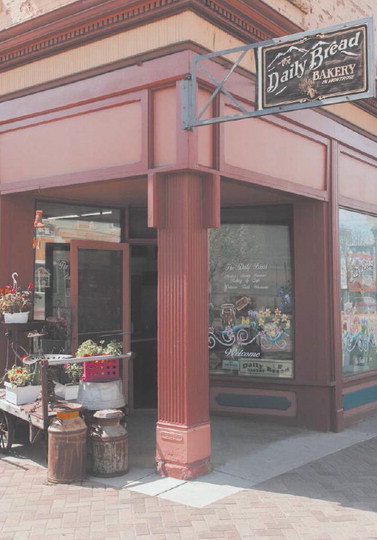 SAYING GOODBYE
Daily Bread closing after nearly 35 years in downtown Montrose
Eating at Daily Bread Bakery and Cafe is kind of like sitting around, eating in your own kitchen.
That's the way Mark Biggins, who visi ts at least once a month, looks at it.
He was in to eat there recently and found out what many have found out in recent weeks — that the cafe will be closing in August.
"'I his is like a home away from home,' he said.
Margaret Johnson and her husband, David, have owned the shop for close to 35 years, and in that time, they've raised a family and made a sort of home out of their business.
They discovered in the fall that the building would be purchased. Their longtime landlords — the Krebs family — decided to sell the building, which houses a few other businesses, like Creative Comer and Classics Barbershop.
The newT landlords have other plans with the space.
'It's been a good ride. Really it has," said Margaret, while hustling around the restaurant, making sandwiches and tending to customers at the counter. 'It's provided a way for us to raise our family.'
The feeling is bittersweet for everyone who works there. It's a chance to move on to other things, but it's also a major change for folks who have worked there for years.
'You feel like you've lived here," Margaret said.
The history
It was 1989 when she and her husband started the business. From Montana, they were making their way down to the Grand Canyon to sightsee. They didn't make it to the Grand Canyon.
'We always stopped at bakeries,'' Margaret said. 'We were coming through here and stopped and read the paper and saw they were loolang for people w7ho want to open businesses in the downtown area."
The city w'as offering incentives to anyone who wanted to help a struggling 1989 downtown Montrose.
'They provided some money, some signage, and advertising," she said. 'It wasn't a lot, looking back, but it was enough to get started."
Margaret and David moved to Montrose and opened the Daily Bread. Hie couple knew business, but they didn't know much about bakeries — other than the fact they liked to stop when they saw one.
So they had to acquire skills. Others helped teach them the craft over the years, like Al Tomich, who worked for Continental Airlines and taught them recipes. They still have his handwritten recipe book in their kitchen.
David has since devoted his time to worldng on the couple's farm and ranch (in addition to baking goods, they are also producers, growing their own food for soups, jams and more). Margaret has tended to the business and its day-to-day operations since 1989.
In that time, they've added — and scrapped — some parts of their business.
For years, they traveled, catering weddings, family reunions and other events.
"We would take a smoker and do a whole hog," Margaret said.
That part of die business has since gone to the wayside, but Margaret points out she has a whole basement full of equipment and supplies to prove they once catered.
Over the years, they also had requests for wholesale. It's no surprise if you've tried one of their baked goods, like the kolaches or die cinnamon rolls. That was something they decided not to go into.
To try their stuff, you've always had to go into their store.
A family business
While making biscuits to pop into the oven, Maudey Johnson, Margaret's daughter, reminisced a little bit about her time at the Daily Bread.
She is 24 and has worked at the cafe since she was 14. The Johnsons had six children in the 1990s.
'It's had its challenges,' Maudey said of working at the shop. She and one of her brothers would come in the shop as kids and help with the dough.
It's strange thinking of doing something else, but she said she's ready.
'I think it's good — change, something different. It's time to move on,' she said. 'But, I don't know, it's mixed feelings.'
Margaret feels the same. 'It's manifested into this wonderful thing for our family," she said. 'But, ya know, times change.
'It's been awesome — the support. Ihere's hopefully something that will fill this void after we leave, and I'm sure there will be.'
Margaret is approaching 70 in a fewr years, and she said if not for the change in ownership, she probably would have kept chugging along.
The acquisition
'We're down to the fourth generation of ownership with the building," said Barb Krebs, whose husband's family has owned the building for more than 120 years. "The next generation, they're just not interested in maintaining it."
Barb and her husband, Stu, have enjoyed the Daily Bread as tenants of the building.
"Well we're really sorry, and if we could have figured out a way for everything to work out, we would have done it, but we just couldn't figure it out,' Barb said. "We feel very pleased with the purchasers, and they are figuring out what their exact plans are."
She said she's happy the new owmers are interested in keeping up the historical significance of the building.
Justin Tubbs is the Montrose Business Times editor. He can be reached by email at justin@montrosebusinesstimes. com or by phone at 970-765-0915 or mobile at 254-246-2260.