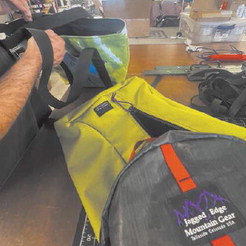 Jagged Edge Mountain Gear sews locally
Kurt Gray calls Jagged Edge Mountain Gear "one of the real mountain shops."
The shop is located in Telluride and it sells equipment, bags and clothing.
Those bags, few in Montrose realize, are produced and sewn right here.
Gray operates out of a small warehouse and manufacturing building here in Mont rose, producing about $250,000 worth of product Erik Dalton is the owner of the company and also owns Montrose Surf and Cycle.
"We try to do most of our manufacturing in Montrose in order to support our local community, keep our supply chain as close to home as possible and because we believe in making locally whenever possible," Dalton told the Montrose Business Times. 'We have a retail presence in the Montrose community ( Montrose Surf and Cycle), participate in many of the local farmers markets (both Montrose and Ridgway), and manufacture all our backpacks, bags and accessories at our facility in Montrose."
Some of the apparel is sewn in Denver, and the company is striving for 100% made in Colorado products.
Gray has a background in manufacturing and later got into design, doing work for some of the biggest names in outdoor apparel and gear, such as The North Face.
He designs and crafts all the backpacks and bags out of the shop with one of his several sewing machines, all of which "are a little different from each other."
"We love where we live and want to support the communities we live in any way we can," Dalton said. " From a business perspective, it gives us more control of every aspect of the process, and ensures we are delivering the product we want."
Justin Tubbs is the Montrose Business Times editor. He can be reached by email at justin@montrosebusinesstimes. com or by phone at 970-765-0915 or mobile at 254-246-2260.