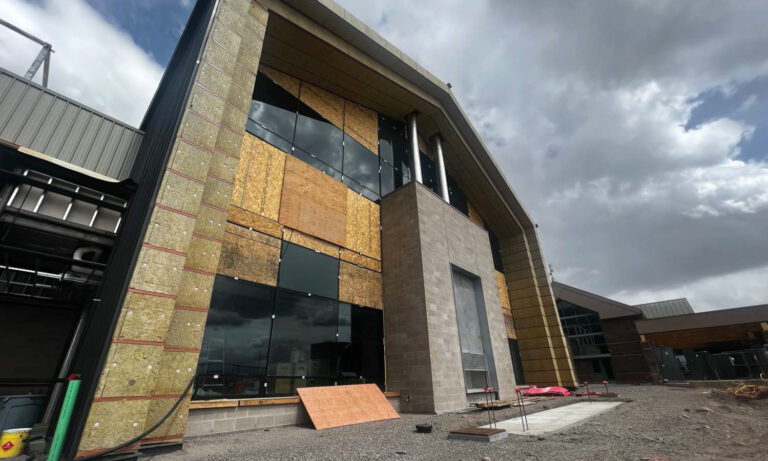 Montrose Regional Airport expansion project on time, should complete this year
The expansion project at Montrose Regional Airport is under budget and ahead of schedule.
That would be good news for any construction project, but it's even better news when you consider this project is attached to one of the region's most significant economic drivers.
The $37 million expansion and remodel project, which will add a total of around 30,000 square feet to the 40,000 square-foot terminal, is divided into two parts: expansion on the south end and expansion on the north end.
It broke ground in December 2021 and is projected for completion this year.
The north terminal addition will be completed July 1, and the south portion of the expansion should be done about three weeks later, in August, according to Lloyd Arnold, director of aviation for the airport.
In addition to nearly doubling the square footage, the project will add passenger gates and will include two concourse-level jet bridges, the first at MTJ. Those jet bridges should be open and operational some time before December.
"We're most excited about being able to provide more amenities to the traveling public," Arnold said. "We want to provide an easy transition from your vehicle to the aircraft, and during that transition, we want to provide all the amenities people expect when they fly nowadays."
Those amenities include two new concessions. Horsefly Brewing, which was operating out of a temporary concession stand, will occupy a downstairs concession area. If you take the escalator — the first ever constructed in Montrose County — to the next floor, there's a bar, which looks out large glass windows onto the tarmac.
Pending Montrose County Commission approval, that bar will be occupied by Shelter Distilling, which is relocating its manufacturing from California to Montrose's Colorado Outdoors project.
The Coffee Trader will continue to operate a concession stand on the ground floor.
There will also be charging stations for people to connect and charge their devices. And may-