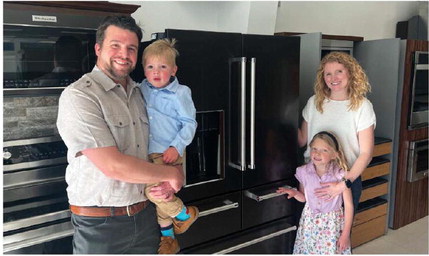 Former owners of Sears Hometown stay planted, open Western Slope Appliance
When Sears filed Chapter 11 bankruptcy in December last year, it was in some ways a relief for Kevin Moore, owner of Sears Hometown appliance store in Montrose for the past eight years.
He and his family wouldn't be working with Sears any longer, but they had to decide what they'd do next.
By February, everything was liquidated, and he and his wife had a decision to make.
They could buy one of a couple businesses and start over new, or they could sink their roots here, in Montrose. They chose to stay here.
So, where Sears Hometown once stood is now Western Slope Appliance, the newest appliance and mattress retailer in Montrose.
Kevin and his wife, Jen, moved to Montrose eight years ago from Houston, when they became owners of die Sears Hometown, which has been in business in Montrose since 1993.
'We've truly fallen in love with the community,' Kevin said.
He said he hopes customers who came in before will return, and their doors are open now, even while their displays aren't fully set up yet.
They are taking orders and selling products they have in stock.
As far as online sales go, Kevin said Sears' website was difficult to use and not always reliable. Western Slope Appliance will have its new website up and running soon, and he hopes to make it easier to use.
He also wants to make clear they are a mattress shop and want to help customers get the best sleep possible. They cany mostly Diamond Mattress for their sleep department.
As far as appliances go, they carry Whirlpool, Maytag, Kitchenaid and Amana.
Soon they'll have Broil King outdoors grills and smokers as well as some patio sets.
Their hours are 9 a.m. to 6 p.m. Monday through Friday and 9 a.m. to 5 p.m. on Saturday. It's located at 1445 Hawk Pkwy, Suite B.
Justin Tubbs is the Montrose Business Times editor. He can be reached by email at justin@ montrosebusinesstimes. com or by phone at 970-7650915 or mobile at 254-2462260.