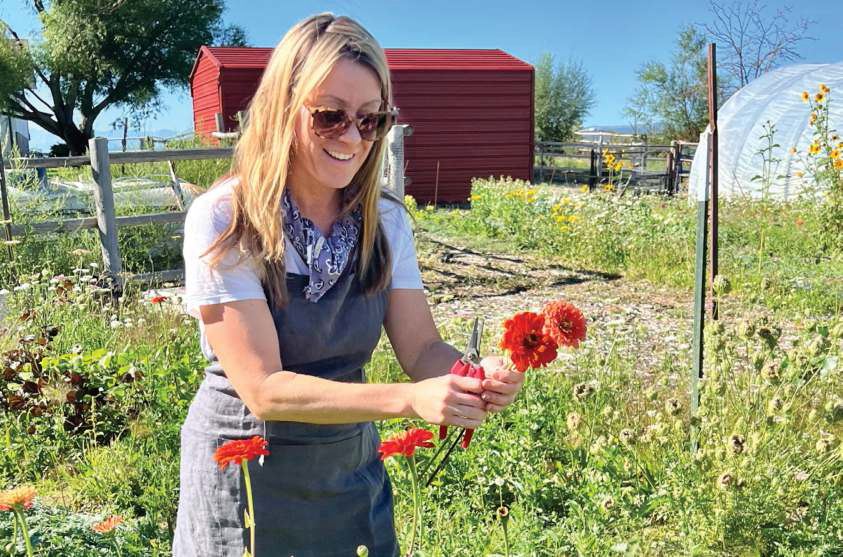 Cynthia Alvarez, Alpenglow Growers
Cynthia Alvarez has lived in Montrose for 13 years and went into business with Alpenglow Growers, a floral business, in 2016. She has three school-aged boys, and her parents retired here.
Alpenglow Growers is a small specialty cut flower farm that offers wedding design, summer bouquet subscription and seasonal workshops. Alvarez grows the flowers on her small parcel of land in Montrose and makes sure they're unique and suited for floral design.
The best way to contact Alpenglow Growers is by email at cynthia@alpenglowgrowers. com. Their website is alpenglowgrowers.com, and they are active on Facebook and Instagram.
MBT: How did you get into the flower business?
CYNTHIA ALVAREZ: I have always enjoyed flowers and spent a lot of time playing and working with my parents in a garden as a young girl. I started my own gardens at every home that had even a small patch of ground to grow something, and I would bring the flowers into the house to enjoy.
When I became a stay at home mom I would spend my downtime getting much needed "garden therapy," and the passion grew into a large enough garden to start arranging them into bouquets that I would bring to friends and family.
MBT: What sets you apart from other florists?
ALVAREZ: I like to use seasonal ingredients as much as possible and I really take extra care with the post harvest process and conditioning the blooms when they are sourced in.
I think that using in-season flowers is the key to a pleasing and long-lasting arrangement that is natural for any given time of year. I enjoy having this "seasonal" conversation with my brides and customers, and they tend to really appreciate the information so we can choose the freshest blooms to achieve the look they want.
MBT: What's your business model? Where do you get flowers from? Do you take more orders or make more pre-made bouquets?
Do you do events? Weddings?
ALVAREZ: I grow most of my own flowers in the growing season and operate out of my home shop that I have made over the years.
I do offer events and wedding design, so when a bride or special event requests flowers I don't have then I order in my flowers from a wholesaler in Denver who can source domestic blooms when possible. In addition to the wedding floral business, I offer a Weekly Bouquet Subscription service.
The flowers that go into these bouquets come from my flower field and are cut within 24 hours of them being arranged and delivered to either Bluecorn Cafe and Mercantile or Straw Hat Farm Market for pick up. The bouquet subscription is purchased by the month and is a weekly bouquet pickup during your purchased month (June, July, August, September). The subscription service and wedding floral design are the biggest facets of my business.
MBT: Do you have others that work for you? And do you have hopes or plans to expand?
ALVAREZ: Yes! I have a wonderful assistant named Marissa Marrero. She has been a blessing. Other than that, I get the kids involved and look for seasonal help each year. I would love to expand, but the economy is tough right now and prices have really gone through the roof, which makes it very difficult to keep up as a small business and compete with big box stores.
MBT: What are the biggest challenges in your field?
And how are you working to overcome them?
ALVAREZ: Right now it's the weather! But it's also the rising costs of the growing supplies I need and competing with labor costs. I am competing with hourly wages that corporate chains can offer, and so I am looking into ways to set up a CSA, volunteers and workshop attendees to help out in the flower field by either cutting flowers or planting.
It's tricky.
Cynthia Alvarez grows, cuts and sells her own flowers as part of her Alpenglow Growers business. Provided photos