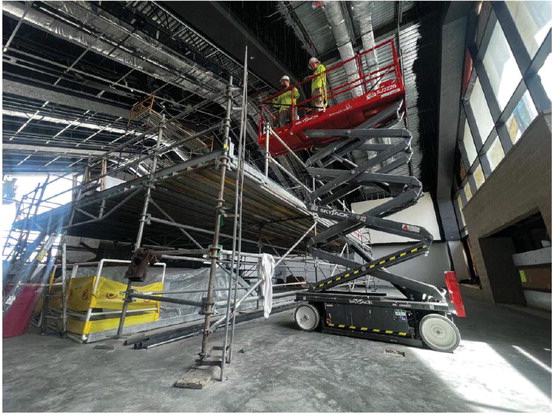 be most valuable is an indoor baggage claim area
be most valuable is an indoor baggage claim area. Passengers currently have to wait for their bags in an outdoor area, which was always intended as a tern* porary fix.
Part of the square footage will be dedicated solely to areas which help people get to and from their destinations.
In addition to all the added square footage, the new design just looks better.
'We wanted to try a little more modern design," Arnold said. 'There's several design elements we went through to get to this point, and we've been working on it for some time.'
More glass is utilized in the new design, and travelers can look out and see much of the surrounding landscape of Western Colorado. The colors will be completely updated. And there are two fireplaces, outdoor and indoor, which serve a utility purpose but also give the terminal some personality.
'We are adding a lot of space," Arnold said. 'Circulation space, the baggage belt is very important to us. And so, providing those amenities is very important to the future of the airport."
Exiting the secure area of a terminal, digital displays on either side of travelers will display photos of the Black Canyon, a futuristic-looking addition.
Already added are new parking lots on the north end. A total of 610 spaces have been added. Where rental cars used to sit on a dirt lot, they are now in a paved parking lot.
More parking is in the works, as the county has put out a request for proposal on the south-end dirt lot. That should provide an additional capacity of more than 300 spaces, Arnold said.
The drive through the airport for pick-up and drop-off should be nicer, as well. The road is being reconstructed and improved to carry MTJ into the next 30 years, Arnold said.
Economic impact
From 2015-2018, Montrose Regional Airport was the fastest growing airport for commercial airline passenger activity.
In 2022, MTJ served more than 460,000 passengers, a 20-percent increase from the year prior. It's used year-round for business and tourism but gets especially busy during ski season.
Those numbers surpassed Grand Junction Regional Airports and Durango-La Plata County Airport and are likely to continue to grow.
Montrose Regional Airport is a hub which allows travelers to get to ski resorts in Telluride and Crested Butte, as well as other ski slopes on the Western Slope.
"Getting this up and going by next winter will be great," Arnold said.
There are no immediate plans for more carriers at the airport, and the number of flights won't increase immediately, but the expansion allows for future growth.
In the 2020 Colorado Aviation Economic Impact Study, MTJ brought an estimated $327.26 million in business revenues to the region and affected more than 2,800 jobs.
"This is the largest economic driver in Montrose County," Arnold said. But it also is one of the largest economic drivers for the entire region.
"Into the future," was a recurring theme during Arnold's tour with the Montrose Business Times last week, and that's where Montrose Regional Airport seems to be taking Montrose County and beyond.
Justin Tubbs is the Montrose Business Times editor. He can be reached by email at justin@montrosebusinesstimes. com or by phone at 970765-0915 or mobile at 254-246-2260.