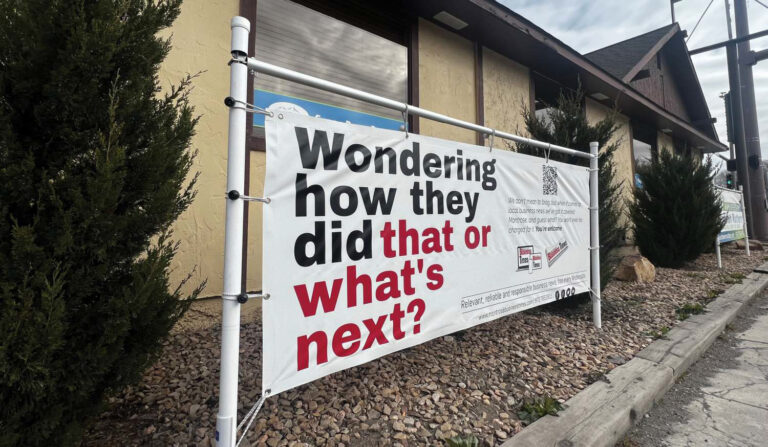 Montrose Business Times launches with first edition, will be a community-minded business newspaper
Here it is.
It's the inaugural issue — the one we hope you've been waiting for.
The Montrose Business Times wanted to get started right away, so when we announced this publication at the beginning of the month, we got to work.
The contents of these pages are what we put together.
With just about three weeks to write, design, sell and build a business publication from scratch, we pulled it off. But we're not done yet… not even close.
In these pages, you'll find local business news. It's business news. That means we cover issues that affect our economy and more. But it's also local. That means it will have the local flavor you want in a newspaper.
So what is our vision? That's something we've been asked a lot over the past few weeks as we prepared this first issue.
Our vision is to be a mindful business publication that supports its local community and tells stories that matter.
Our background
The Montrose Business Times launched as a subsidiary to The Maddox Companies, owned by Tonya Maddox.
If you know the name, there might be a few different reasons. Maddox owns Our Town Matters marketing company, which oversees 18 local clients. She is also the former publisher of the Montrose Daily Press and has 24 years experience in newspapers and publishing.
Justin Tubbs is the editor for the Montrose Business Times and former editor of the Montrose Daily Press.
He has close to 10 years experience in the newspaper business, previously serving as managing editor of the Montrose Daily Press and, before that, running the Ennis Daily News in Ennis, Texas, as editor and general manager.
The people who work at the Business Times care about their community and want to see it succeed. So, while we are a newspaper with journalistic integrity, we are also a champion for our community.
Our content
The Montrose Business Times will cover a wide range of issues. In our inaugural issue, you'll find a story about how recent legislation is affecting mom-and-pop liquor stores in Montrose.
You'll find an interview with one of our local state representatives. And you'll find interviews with small business owners.
In these pages, you'll also see a Movers and Shakers section, in which we will share news about your employees. Added a new employee? Let us know. Want to recognize someone who did outstanding work? That's also what that section is for.
We want to be a local newspaper you can trust and rely on to cover important business news that matters.
So what is business news? Well it's news that affects local businesses, but it's more than that. We want to tell the story of the business climate in Montrose — all sectors. That means real estate, tourism, the work force and just about anything else you can imagine related to business.
We are a business-to-business publication with a big focus on community.
Part of that focus on community means we will ask for your help. We want to share your news. So when you have it, let us know. Call or email us any time, and we will work together to make this publication one we can all be proud of.
As a marketing partner
Want to know one of our favorite parts about the Montrose Business Times? Here it is: It's completely free.
We believe community news should be shared with as many readers as possible. To achieve that goal, we decided we would make this publication free for our readers. You can subscribe to our online edition at montrosebusinesstimes.com or you can pick up a copy at one of more than 40 locations around Montrose.
We are working to deliver the newspaper to you in the way that works best for you.
That brings us to advertising. We want to help your local business, philanthropy efforts and more. We want to build relationships with our clients to give them the most exposure for their dollar. We know your business or nonprofit needs to make its marketing dollars go as far as they can.
We want to help you with that. We offer digital and print advertising and are constantly looking for more ways to get your name out there. So don't ever hesitate to pick up the phone and call us to see how we can partner with you.
As we continue to build this publication and make it better, we can't wait to hear from you.
Share your news with us. Tell us what you think and how we could better serve your needs.
We are here for you, and we are excited for what's to come.