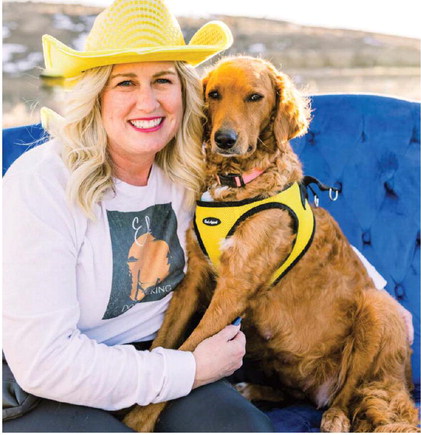 Jill Downs, Elite Dog Walking
Jill Downs is the owner of Elite Dog Walking. She grew up in Minnesota and moved to Montrose in May 2022 with the dreams of opening a doggy daycare and boarding facility. She lost her remote corporate job in August 2022, and instead of getting another sales position working for someone else, she decided to start her own business to get closer to her dream of opening her doggy retreat. She started walking dogs in January with 12 walks. In February, she did 28, and then 67 in March. Her goal is to reach 100 in April. She takes dogs on 15-, 30- or 45-minute walks, and she will typically meet them at their home or place of work.
MBT: Most dog walking businesses these days take a lot of pride in letting people know their pets will be safe in the hands of someone else. How do you make sure people feel safe and comfortable?
Jill: Elite Dog Walking uses PetCheck Technology, which provides real-time GPS tracking of the path I take while walking their dog. This can help reassure owners that their pet is being taken on a safe and secure route. I can also send photos to the owner through the app to show them their dog is having fun and enjoying their time with me.
MBT: How many clients do you have now, and how will you manage growth if it continues to get busier?
JD: I have several clients, and I only will walk dogs with each other if they get along well. I have started to group my walks together as I get busier and will take four dogs at once. I walk dogs from 11 a.m. to 4 p.m., Monday through Friday and set free meet-and-greet sessions from 9 – 1 0 a.m.
and 4-5 p.m. to get to know the dogs and owners and answer questions to get a feel for what schedule might work best for the dog.
MBT: What's your favorite part of running a dog walking business?
JD: My favorite part of dog walking is the opportunity to bond with the dogs and help them stay healthy and happy. Walking and playing with dogs is not only enjoyable but also beneficial for their physical and mental well being. I love seeing their excitement when they realize it's time for a walk, and the satisfaction of knowing that I am making a positive difference in their lives. I couldn't be happier walking the streets of Colorado looking at the beautiful landscapes of the mountains, too, which is an added bonus!
MBT: What do you think makes a dog walking business successful?
JD: Overall, a successful dog walking business requires a strong commitment to providing high quality care for the dogs, building a positive reputation, and running the business in a professional and efficient manner.