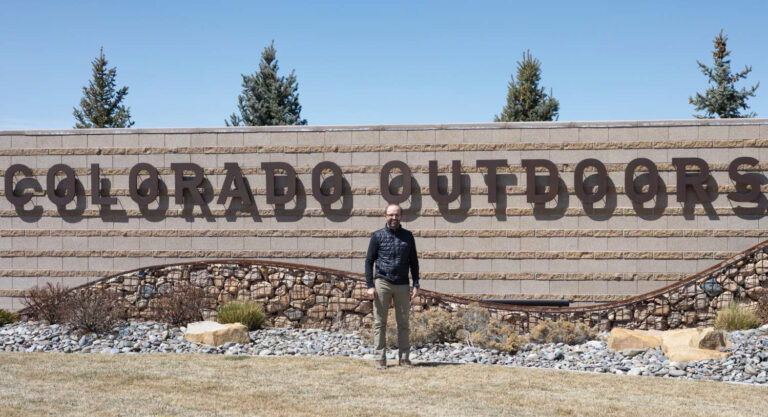 Dragoo, Colorado Outdoors curating community in recruiting to campus
"We could do it right, or we could do it fast."
From a second-floor conference room inside Mayfly Outdoors 41,000 square-foot manufacturing building, David Dragoo, president of the company, can look out and smile seeing a pond full of ducks and other wildlife.
He can also see Mayfly employees sitting around the pond, having lunch, and joggers running along the trail adjacent to the pond and his building.
Across from that pond is an enclosure with some construction equipment. It will soon be the new home for Shelter Distilling, which broke ground earlier this month.
That construction is a sign of growth and expansion, but it's also a sign of community — something Dragoo values as he leads the Colorado Outdoors project.
Where they came from
It was 2018 when Dragoo began taking the opportunity to capitalize on Montrose's designation as an "Opportunity Zone." Basically, this was an area ripe for investment, and federal, state and local incentives meant entrepreneurs could invest in their businesses or projects with some support.
Construction began in earnest that year.
A $3 million walking trail that Dragoo says might be "seemingly overbuilt" was constructed with $2 million in grant money from the Great Outdoors Colorado (GOCO).
The city and DMEA/Elevate fitted the Colorado Outdoors land with fiber cable for internet. And improvements were made to the river that runs along the 150 acres of Colorado Outdoors land, turning that portion of the Uncompahgre into prime fishing territory.
And, of course, Mayfly Outdoors, which makes Abel and Ross Reels, built its fly fishing factory right in the middle of it all.
Then came COVID, which Dragoo says "slowed things down" but never stopped the construction.
"These projects take a while," he said, sitting at a big oval table in that upstairs conference room. "Fast-forward to today, some are mid-construction. Others are completing. Shelter Distilling started a year ago. The project is really maturing, and I think you'll see it's hitting its stride."
In 2019, there was only the Mayfly building and the trail. Today, there are Flex buildings, as the project labels them, that house all sorts of businesses such as Secret Creek (formerly Colorado Yurt), Trattoria di Sofia (an Italian restaurant that used to be located downtown) and a childcare facility.
There's also the very visible construction of a Marriott hotel, beginning construction for the distillery and plans for a surgical center next to the hotel.
There's even more. Dragoo said another 3.5 acres across from the Shelter Distilling land has been activated, and more medical offices are in the works.
Looking back at when he first visited Montrose, Dragoo says he knew Montrose, and the Colorado Outdoors, was a prime area for growth.
"We could do it right, or we could do it fast," he said.
The project has moved along steadily, never fast, and Dragoo and co. have done their best to make sure it's been done right.
Part of that is the river. "One of the reasons it's growing is because we've discovered the river," he said, before correcting himself. "Well, we rediscovered it. We've always had it, but it's transformed from an industrial place to a place with a sense of place, where you'd want to work and live. It's a complete 180."
It is. Much of the land used to be used for gravel mining. Now, it's less utilitarian, Dragoo says.
Artist renderings for the Colorado Outdoors show townhomes, office buildings, restaurants and streets all in the middle of open, outdoor space next to a beautiful river.
Growing the right way
It's not uncommon Dragoo and the Colorado Outdoors tell businesses and entrepreneurs they might not be the right fit for the area.
"How do you know a business is a good business?" Dragoo asked. "That's a hard question to answer. Is it willing to engage civically, are they going to get involved in the community?"
If not, Dragoo says they're probably not the right fit, especially for a community the size of Montrose.
He compares it to a barnraising. You need a community to come together to raise a barn, and he believes Montrose has the right type of people — the kind who would show up for the barn raising.
One of the businesses that ended up being a fit was Colorado Yurt. It was an established Montrose business that was sold and rebranded